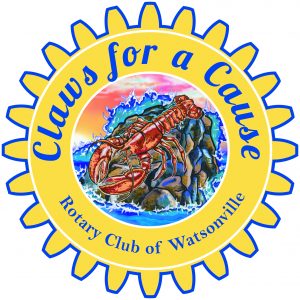 The fantastic "Claws for a Cause" Team of Watsonville Rotary Club Volunteers were all smiles during their 2023 Maine Lobster Take-Out Dinner Fundraiser on Saturday, August 12, at the Watsonville Elks Lodge. With some 200 dinners sold to supporters from throughout the Central Coast, volunteers delivered ready to cook steam pots full of fresh Maine Lobsters with all the fixings, sour dough loaves and bottles of wine to curbside patrons arriving to pick up their dinners between 2- 4 p.m.
The Club will use 100 percent of net proceeds of $19,000, combined with other philanthropic Club funds, to make grants in the spring of 2024 to local nonprofit organizations serving vulnerable children and teens in Watsonville and the Greater Pajaro Valley.
We'd like to thank all of our generous sponsors, in-kind sponsors, ticket buyers and donors for making our 2023 "Claws for a Cause" Fundraiser a great success again this year!